I conquered the Wall in 10 hours!
May 28th, 2016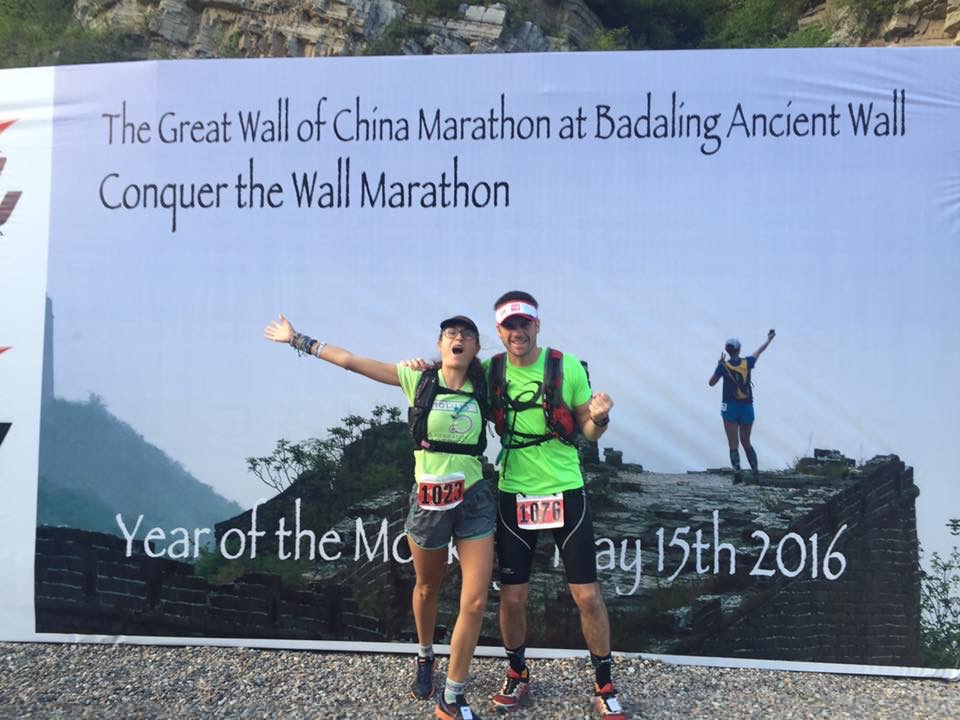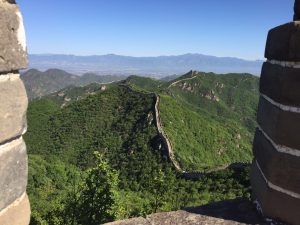 Since I left home, I would like to realize one dream: run on the Great Wall. Why? Actually I don't really know… This wall always has been mythic, even magical. Maybe also by the fact that it took one century to build it, the reason of its creation or the legends about this place; it attracted me in someway.
After travelling for 16 months, I could finally face this wall, a challenge which was actually scary, I would admit it… I would have to run 42,2 km onto this great wall, with 3 000 meters of ascending elevation at 1 000 meters high. I was a little under pressure because of the cut-off time at around 9 hours, 5 km before the end. It seemed hard because in Vietnam I ran 8h49 a marathon with 2 000 meters of elevation. Difficult to do the same! And my fail in Australia was still in my mind, so I was stressed, very stressed. But I had no choice but to succeed!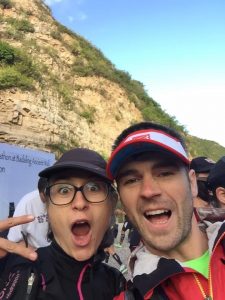 For this race, I had one advantage: to run with a friend, and most of it a great runner. Quentin runs a marathon in 3h15 (If I remember well) I could not fail with him! Arrived on the same day in Beijing, we had planned to visit this city, unknown for us.
The day after arriving, we went to picked up our bibs. In a hotel room, noisy and animated by all kind of discussions between the organization and the runners. A little bit lost, we finally got our « passports » for this amazing race.
Before running this marathon, we went to the Forbidden city, Tiananmen square, tried local products such as dumpling (ravioli filled with vegetable, meat, fish, …) and local beer. For the professional marathon runners or not, try to avoid drinking beer before one marathon… but one beer never hurts!
The day before the race, we took some rest next to the swimming pool and did tour own « pasta party » in a western restaurant. You should have seen us asking for our meal, we looked like playing mimes as in the Time's up board game (for the ones who know). Last groceries for our race : drinks and food. We would be ready!
2:00 am, the sound of my alarm clock, oh no! Even though running on the Great Wall is motivating, it is always hard to be a morning person at this time. As we are « warriors », nothing could stop us, we came from France to conquer the wall. After a quick breakfast, we jumped into the bus for 2 hours. Sounded good to me, I could sleep; I was getting more and more stressed, hopefully I was not alone and I could share my thoughts with my running mate !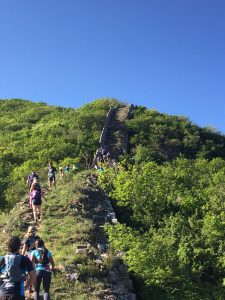 At the very last moment, I picked up my sticks ( that I forgot inside the bus, of course…), and let's go! But what was going on ? The first two kilometers seemed to be more difficult than usual, and we just started… Oh no ! I realized, later, that we were in the mountain, I was not used to it. Quentin, was really confident on his run. I had to follow him, he was my pace maker. We reached the 6th kilometer, so we started to reach the wall: it was climbing, we should excepted it!
1,5 km later, we were there… One word came out from my mind: « Arethey kidding us! » Why? Easy, I could see the two crazy hills where I would supposed to run on the next few hours. It is a part of my moaner temper. For sure, I stopped for few minutes to enjoy this beautiful scenery and the non-ending Wall on all these hills.
One thing I need to tell you something about the route, it's that you not only have to do one lap but two on the Great Wall. It should not be too easy! Anyway, the first part was on the restored Wall, which meant that the stairs would be in good condition. It was, but first they were uneven, second, at every top hill we were hopping that it was the end of the climbing. You could forget about that, your are on the Great Wall, they are hills during kilometers and kilometers!
The way back was as hard as the first climb because we had to go down on the same stairs. As I am fearing of nights, I was not very comfortable. But my super coach, Quentin, was there to support me and also to remind me that I needed to run when the road was flat… Oh yes, how could I forget?! Tough, all theses stairs were legs-breakers, for real!
When we started to run on the second part of the Wall, it was more a trail (because it was the unrestored part). We reached the village which is a water/food/energy drinks stop. We only ran for 15 km at this point. « See you in few hours », I was joking with the volunteers.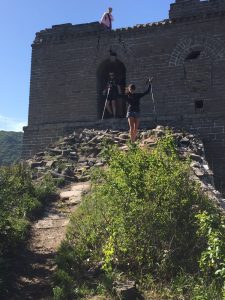 On our way to start again the lap, Quentin, who needed to take a plane at night, kept on running by himself. He needed to be at the finish line around 2pm. We would meet later on anyway. I felt a new energy arriving at the half way. One of the reason is because it was downhill, I was like a child, I ran, I smiled…
21,1 km, second lap with again the flat 6 kilometers before climbing. I ran, I was hot but stil kept on going. At the waters stop while eating and drinking, I passed by a men around his forties. We seemed to have the same pace, so why no running together? David, who agreed to stay with me, had already participated to three Iromans. I was impressed! We would run together until the finish line!
The second lap was less impressive than the first one because my legs, my hips, my body remind me that it was hurting. I could not say that I was disappointed because I was in one of the world's wonders.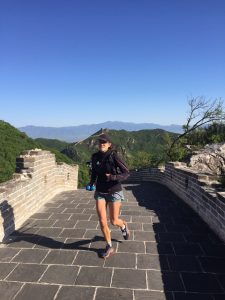 What helps me a lot was the cheering from the others runners, it is better than all the food or energy drink you can have.
Few kilometers before the end, one volunteer told us that we should stop… It looked like I would be again disqualified. No way, we finally were before the cut-off time. What a relief! After that, my pace went faster, I could not take the risk to be disqualified again. Last downhill, I found energy that I had inside me, I ran, jumped, I wanted to end this race. After 10hours and 5 minutes, i crossed the finish line, happy to realize one of my biggest dream.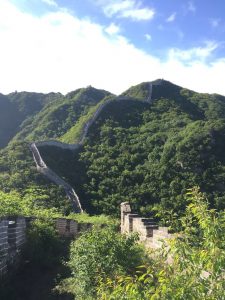 If you want to participate to this race, it takes place mid April. You
can run the 5 km, 10 km, 21,1 km or 42,2 km. You can walk the race if you want too. If you want to have more information on this race go on Conquer The Wall Maratho or send me an e-mail to worldwildrunneuze@gmail.com, if you want to have more information.