My first trail – Loskop Wild Challenge 21.1km
May 30th, 2015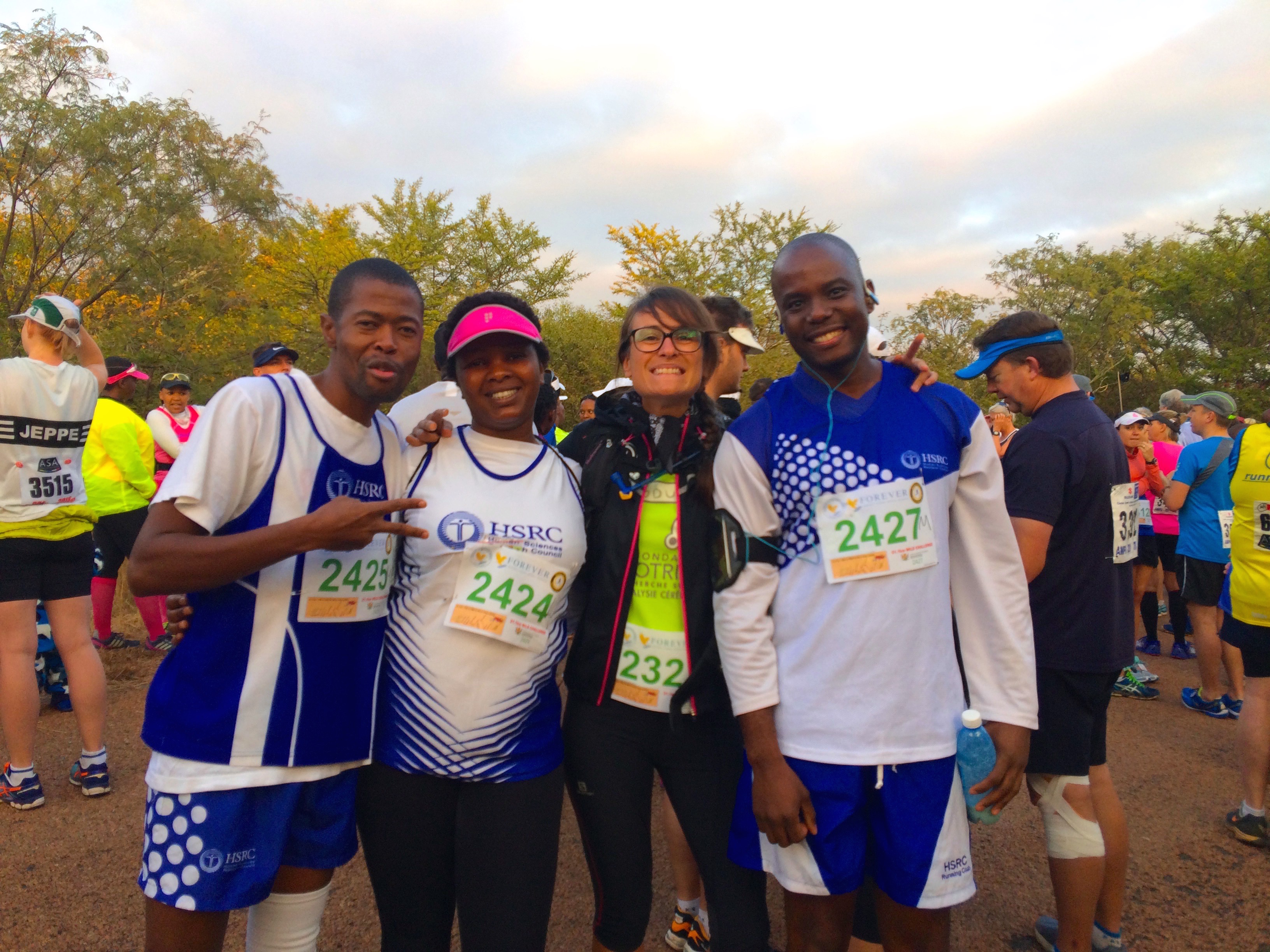 I crossed all South Africa in less than 10 days passing trough Cape Town, Port Elizabeth, Johannesburg and finally Middleburg. A small town between Johannesburg and Mozambique, that how this city got its name : "The city in the middle".
This is where the Loskop Wild Challenge 21.1 km took place. One day before the race you usually take your number. This was the perfect moment for me to meet organizers, volunteers and athletes.
I had contacted them more than one year before the event, so I had the chance to be welcomed by Hein Hock, the race director. I felt special because they had welcomed me like a star. It was too much for me but who is only a regular girl. After several hours I felt better and one of the reasons was Kitty. She is a women of 60 years old and ran since 20 years. What an inspiring woman! She took care of me as if I was her daughter and introduced me to female "runneuzes". I also interviewed her, be sure of that! Finally, I went to bed after checking the half-marathon departure and talking with other runners. Surprisingly, they told me that this race was tougher than the 50km ultra marathon which was the same day… It scared me a little but I was prepare to suffer!
I woke up at dawn, I prepared a big breakfast: eggs, yogurt, almonds, toast and clementines. Yummy ! Breakfast before a race is a special moment, everything is quiet. I love it! One hour later, I took a shuttle to reach the beginning of the race. I stayed at a hotel near by with Hein's family. The Loskop Wild Challenge should begin at 6:30 but there was so many people that we needed to start at 7:00. No problem, I met three South African people from the same company who just came to run this race: Duncan, Dinah and John. Every one talked about his feeling before we start. A cannonball launch the race, let's go!
On the first kilometer you have to struggle to pass because there were a lot of participants. After the second kilometer, I started to run at my own pace. The trail was flat at this moment so it was easy like on the road. Nevertheless, the path changed and my pace slowed down naturally. I knew that the pace in this kind of race did not matter but I realized it more at that time.
Then, we discovered the famous hill that everybody talked about : you have to run for 2 kilometers. As I am kind of a stubborn person, I ran the first kilometer of the hill. Bad idea! So I listened to my body and heart beat, I slowed down. Besides, everybody was walking! It was time for me to rest, it left 14 kilometres. To be motivated all along the race, I put music at the beginning of the hill. People screamed : "Thanks it motivated me" or "I follow you so I can enjoy the music with you"! I love this because I like to motivate people. I don't need that much to be happy.
Then, at the top of the hill, I smiled, I let go my body to go down the hill. This is one of my best moment in a race, I feel free. Most of it, it gives you wings when you run in an awesome landscape.
I met during my race several persons like Pertunia who started to run because of her father. We stayed together for several kilometers.
At the end, it was easier because the road became flat. When I say flat, I mean not that hilly until the 19th kilometer. For the last kilometers, I had to run on the last but not the least hill which took all my strengths. I did not quit and I managaed to end the race in 2 hours dans 18 minutes. I was so happy !
Final picture with Kitty who was part of the organisation team, then I took my medal, my tee-shirt and two kilos of orange. No, you don't dream, they really gave me that and to all participants. Amazing!
I also waited all people that I met during the race and congratulated them. They also offered me to join them to a braï. It's a typical South African Barbecue : marinated steak, sausages and lamb with pap (a kind of white paste made out of corn flour)… Delicious. It is the best way to end a race. During this lunch we talked a lot about our lives, our cultures, …. You do not only participate to a race for the time but also to meet new people.
If you want to participate to this race, it takes place in April. Go on Loskop marathon website. If you want to have more information about this race or about training, send me an e-mail to worldwildrunneuze@gmail.com. I will be very happy to answer you.