A marathon in « spring break » city !
February 2nd, 2017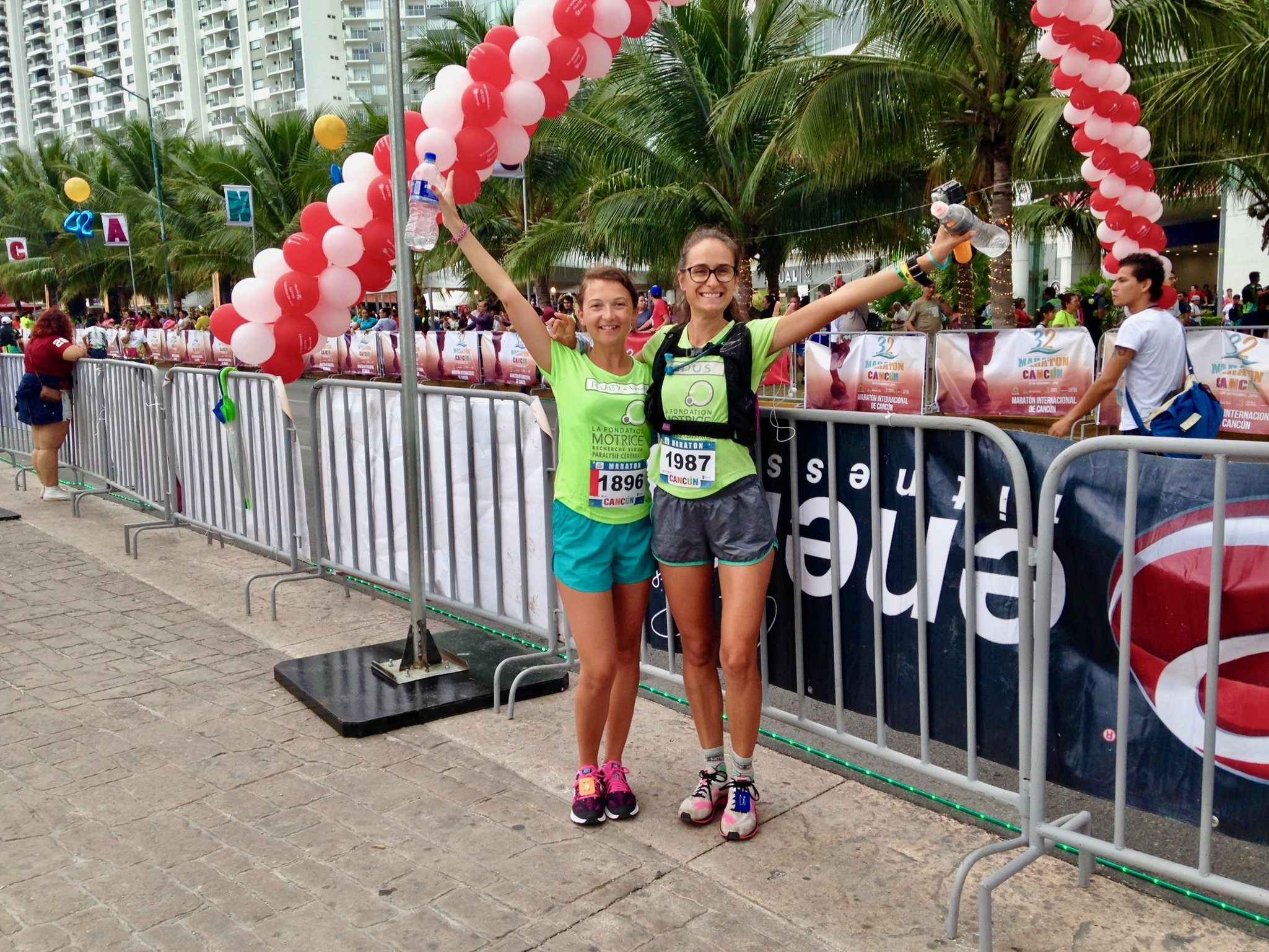 Cancun is mostly famous for partying nevertheless they still have been organising since 32 years a marathon in December!
Domi, a friend and a runner, had decided, a few weeks earlier, to run with me this marathon with me. She would be running the half. She did not only visit me but also going to run with me. It would be the third time in my trip that a friend would join me to run. I was thrilled! It is not the same to run with another person than just by yourself. I have most of the time run by myself, let's say a lot. You feel more powerful especially when it is a friend who runs with you. You are able to share all your emotions and your stress.
Stress that we felt the day before the race not only for the competition itself but also because of the lack of communication from the organisation regarding the race kit pick up. We ended up to travel all around the city during two hours like a treasure hunt… We finally arrived a little bit annoyed by the communication they made for foreigners participants. Thus, I let them know about this and this was their answer: « Sorry we outsource this so it is not our fault… » I was like it was not their problem at all. Some might know me but I am a little stubborn, so I found another person in charge later and I understood that they would take care of this problem for the next year. Sounds good!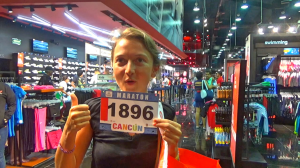 We could now come back home and even sleepover because the marathon only began at 5 pm. It's the first time that I would not have to wake up at midnight, 2 or 4 am! What a relief!
The next morning, we had time to get ready. We left home one hour before the race end tried to take a taxi to go to the starting point. It won't be that easy… A Saturday afternoon in Cancun, all taxis are occupied. We finally managed to share a taxi with a group of Mexican.
Music, activity, the atmosphere is great at the starting point! The only thing that I really wanted to do is to run! Let's go and run!
We had been running the 10 forts kilomètres with Domi. I can feel the heat, and the air was really moist, my pace was still correct, I just started to run. I shout motivation words for Domi and I. Just by being here with me, my friend gave me an incredible strength and the will to keep going on. She was also running with a shirt from La Fondation Motrice. We reached the 10th kilometre. Soon, Domi would return to the finish line, as she ran the half-marathon. In the meantime, I would keep running until the end of the peninsula. I can do it! I can do it!
I passed by few people mostly the same, they were in front of me and we changed position. Until that a Mexican ran just next to me, I greeted him. Juan-Victor is a police officer and runs for the first time a marathon. We would spend the rest of the race running together.
The sun went down, so it was cooler and cooler. We checked yesterday the weather and the forecast was not good. At the 26th kilometre, the only thing that I did not want to happen happened: pouring rain with high wind…. At this moment, I really wanted to give up but I needed to focus on something else. I tried but I felt my body was weak… I need sugar, fuel. My teammate offered my chocolate which helped a lot. I still have cramps… It really difficult but I saw that we almost reach the 30th kilometre. Passing this step for me is a good, I know I only have 12 kilometres to go so I focus on that small distance and try to forget about the kilometres that I already run. Every race, Every race! This time, the water stop helped a lot.
A very animated water stop like all water stops we crossed. We heard the typical motivation sentence that every Mexican knows:« Si se puede ! Si se puede ! »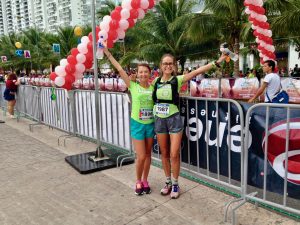 That is to say « Yes you can, Yes you can! » Directly, I found energy and motivation which made me smile and kept me running. The weather was really changing and playing with our nerves: stopping, pouring, stopping… I had to take off my glasses full of drops, steam…I could not see anything. Last kilometres are as painful as motivating because I could see the end.
We arrived with Juan-Victor after 4h30, I thanked him for supporting me all along this marathon, we exchange some tips for our next races and I met Domi who were waiting for me under the pouring rain. This is what you call a real friend!
If you want to participate, go to the event 2016 of Cancun International Marathon The race is taking place beginning of December. You can run 5k,10k, 21k, 42k. If you want more detail, feel free to send me an e-mail to worldwildrunneuze@gmail.com