The day I ran 36 minutes faster Paris Marathon !
April 12th, 2017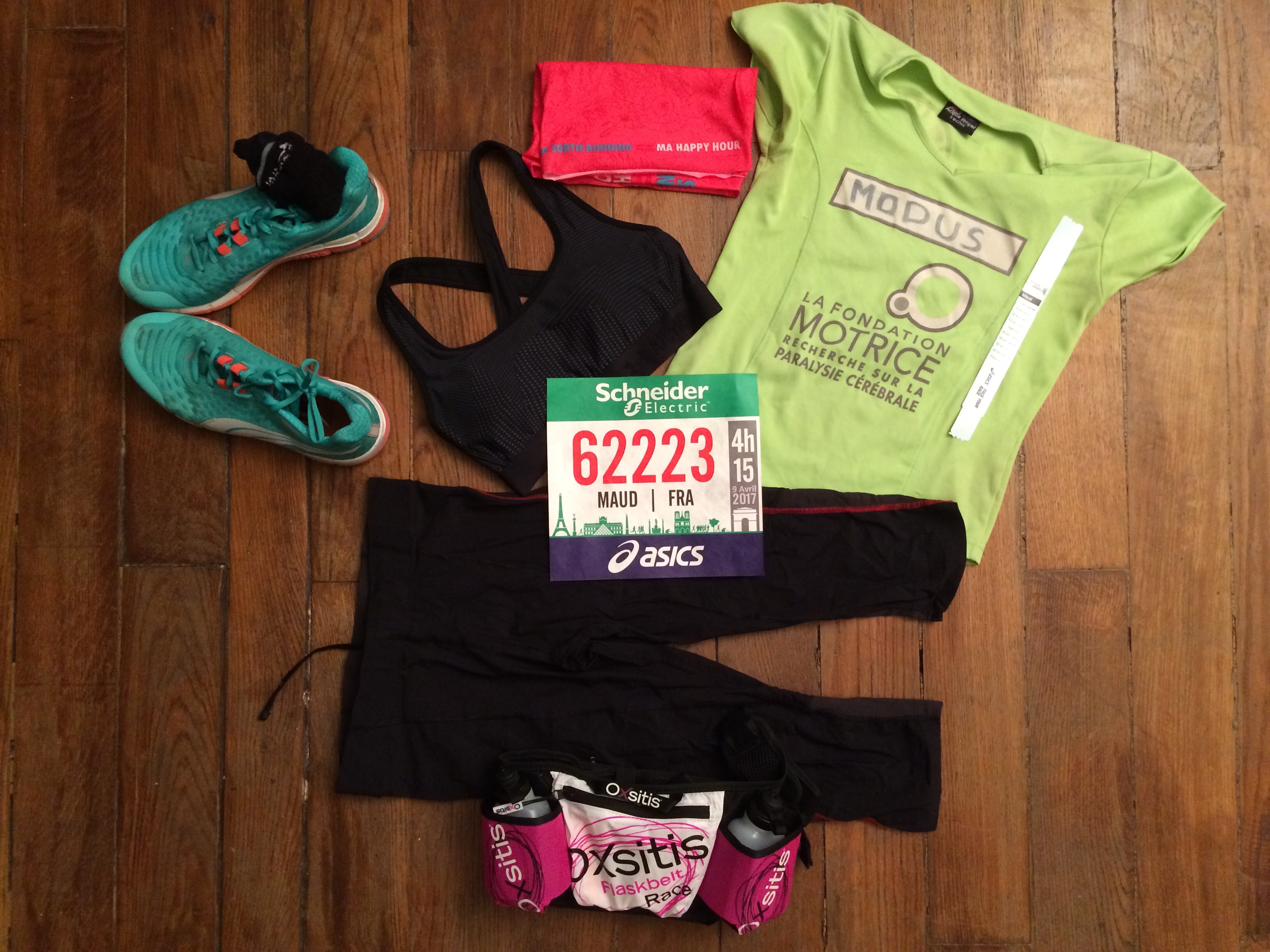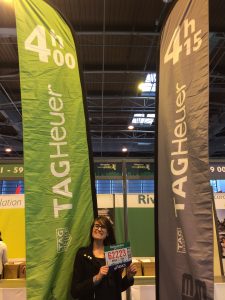 I felt a little bit stressed the week before the Paris marathon. I was closing a chapter, my journey was ending, I came back in France and I was ready for a new adventure. I felt a little bit nostalgic at the same time. But… I was determined to finish this marathon.
Thursday before the race, I was going to pick up my race number with my friend Celine who didn't know how crazy was the Running trade fair, she thought we would spend only 30 minutes, but we left after 3 hours….
I wanted to meet new people who followed me since the beginning of my project, those with whom I had travelled, to take pictures, discover new products…
My race number in my hands I couldn't go back…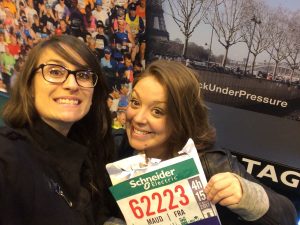 Friday, I hadn't run yet in the week, so I went for a 7 km around the Buttes Chaumont. A good way to relax before Sunday's race, luckily it was a beautiful day.
Saturday, I felt I haven't seen everything at the trade fair and I wanted to do some shopping. Cereal bars, crystallised fruits and gels, I bought all this for the day after and I met my friend, Estelle, who came to pick up her race number. Later, on the evening, we would meet again for the traditional pasta party at another runner friend house, Camille. Max, Estelle's boyfriend had joined us: he would run with the girls on the last 12 kilometres. He needed his pasta party plate!
Talking about our feelings: pace planned, strategies, fears and motivations…. about everything. As we were talking, we ate all the pasta and a huge fruit salad! Full and ready to face this challenge that we have been waiting for as much as we feared it.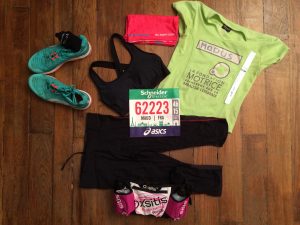 Oh no… I think the alarm didn't wake me up, I looked at my phone, it was only 6 AM… Phew!
Still half an hour and I would begin my well-oiled ritual after 3 years! Shower, pants, shirt, Fondation Motrice t-shirt, breakfast, route and pace checking, cream on my feet, lacing running shoes, putting my running belt on (containing to eat for 15 people) and head protection because of the heat announced.
Let's go to one of the most famous places in Paris: Champs Elysées. In the subway, I thought about my first marathon 3 years ago with Julie, the desire that I had to run which still hasn't changed, it stays the same and even a little bit more!
I went to the starting point and met Thomas, who told me the day before the race a big news, he would run with me. Met during my first race Kimbia Kenya two years ago, he was going to be my pacer.
5… 4… 3… 2… 1, we started on the most beautiful Avenue in Paris, with already 24 degrees! Rue De Rivoli, I went where I could find shadow: next to the buildings, I might not find it on the next few kilometres. Bastille place was already in front of me, like the fans: a lot of them came to support 50 000 runners who were there on this Sunday morning. First water stop, I drank even if I did not feel the thirst, but with the heat, I didn't want to risk dehydration. Thomas, as an amazing pacer, went to get me some water so I could keep my pace.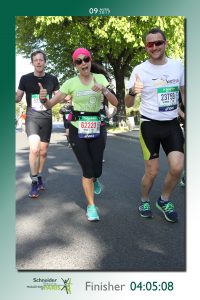 Bois De Vincennes is in front of us, we ran 10 kilometres with 4 minutes ahead on our plan. I felt good, we maintained our speed. We crossed at this time: Mexicans, Australians and Argentines who came in a large group: they even thought I was Hispanic… unreleased because I really do have a French accent when I talk.
15th kilometre, I made myself eat because I was doing a long run, I needed strength and I didn't want to be starving. A few bits of a "Cliff bar" that I absolutely recommend: Coconut Chocolate Chip. A real treat!
18th kilometres, we went out of Bois de Vincennes, Thomas ran further so he could join Kimbia Kenya organisation, posted 800 metres away, with Claire and Melanie (in charge of the organisation/race). Their encouragement boosted me to reach the half-marathon. Bastille again in front of us, the route was getting smaller and smaller because supporters were bigger and bigger. 2 hours, it was a very good pace and I still felt good.
I had taken with me some pain killers because I had a pain in the malleolus since 1 month when I was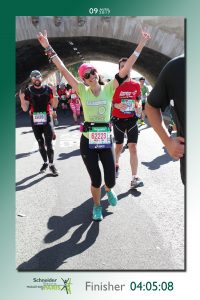 running more than 20 km. At the 25th I decide to take one pill, before the hills on Quais de Seine, with a little bit of my cereal bar. I have to admit that I was feeling bad since the 5th km but I tried to take it as late as possible. Ups, downs, then running in a Spa atmosphere before the 28th kilometre. We sang, tried to motivate people running uphills! I needed to think about something different than my pain…
30th kilometre, we passed under Bir-Hakeim bridge and I saw Céline, Clemence and Jessica supporters friends. I was surprised because I asked them not to tell me where they would be. Because three years ago, I found myself looking for some friends at the 32th kilometre and they were not there, mentally it was really hard…
I asked Céline to bring something special: Dragibus. I turned back as soon I had seen her. Candy is my way to eat sugar and also to reward me. I'm gonna to hold on that for the next 12 kilometres. She gave me a bottle of sugary water (that I poured on my head.. I would realise it at the end of the race… too bad).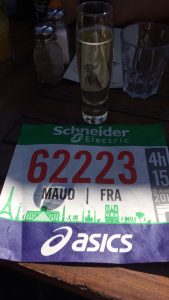 My aim was to keep my pace on the last 12 kilometres, hydrate and keep my head fresh. I was determined to eat sugar every 2 kilometres. So I did it as soon as the entry of the Bois de Boulogne. 32th, 34th I ate Dargibus, 36th I changed, I ate oranges, 38th Dragibus again… and soon I can feel it we would arrive at the end, we passed under the 40th-kilometre arch. A final boost before the end (that's the name of the gel),41th, 42th kilometre, I was very emotional when I saw the Arc de Triomphe…
I did it, I'm a finisher of Paris Marathon 3 years after my first one. I finished in 4h05 and 8 seconds!
Thanks to Thomas who helped me all along marathon and to beat the time I had set: 4h15. Now Champagne to celebrate this victory.
The chapter is close but one thing I'm not going to stop running!
And you, did you run Paris marathon? How was it?