Not one…not two… but three Machu Picchu !
April 26th, 2017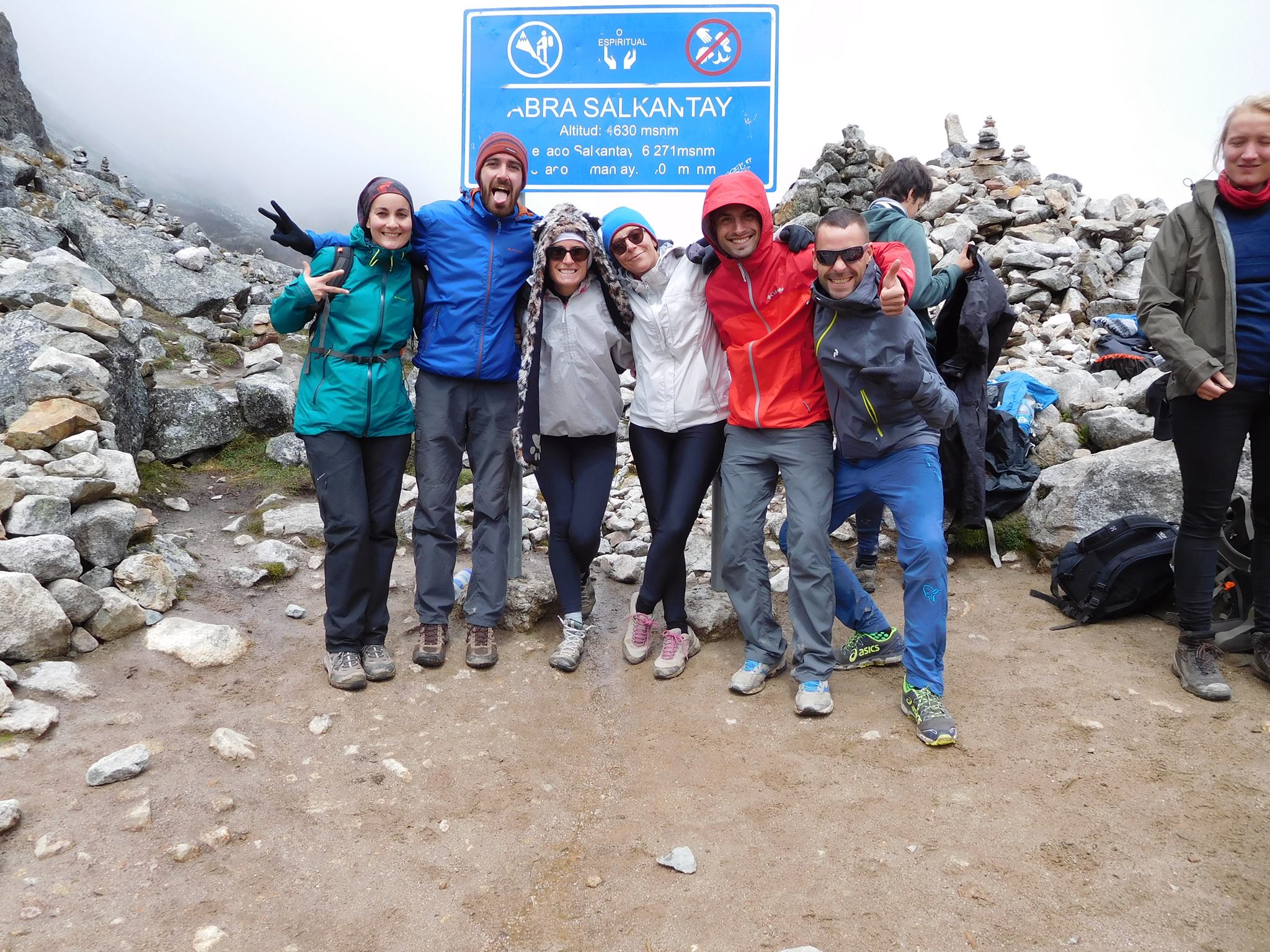 As far as I can remember I got the travel bug because of the Machu Picchu. Some fabulous places like the great wall of China, on which I had the chance to run in may 2016, woke up my need to travel and visit those countries, like a special attraction. It's also probably because I read a lot of magazines GEO (you know the one with the green front page) that my parents received every month. It awakened my travel spirit to discover these wonders of the world.
After crossing the Peruvian / Bolivian border, I met one of my friends who wanted to climb Machu Picchu, Camille. So we went at the point of departure of this legendary trek: Cusco.
From there, we had several options to do this unforgettable ascend:
– 2 DAYS: just to see the Machu Picchu!
You have the choice to spend a day where they drop you off in the afternoon at the start of Machu Picchu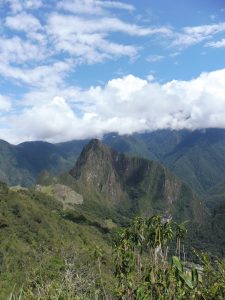 site, then you walk around 3 hours along the tracks up to Aguas Calientes, the city before the Machu Picchu and where you are going to sleep. Alarm set for the next day at dawn, 4 am exactly, to be the first at Machu Picchu's gates. Then you might think you end the walk and you just have to wait for the sunrise but no! Next step is 300 metres of ascent on 1 little kilometre. You need to deserve to see this holy city. Trust me, it worth it. Even with the pouring rain, I was amazed to see it.
Be careful, few things you need to be aware:
– If you want to do the climbing for less, you should probably go back by foot to the starting point and not by train ($ 75 from Aguas Calientes to Ollantaytambo and then take a bus to Cusco – $ 110 from Aguas Calientes to Cusco) and need to leave the latest at 11 am to have enough time to go down and take the bus: 6 hours to Cusco.
– If you decide to take the train, you can climb Huyana Picchu mountain where you will have a different view on the site. You need to book it with the agency that you have chosen. We picked Peru travel company.
– 4 days: Inka Jungle Trek – to have fun!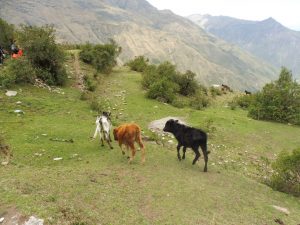 This option is for you if you want to go and see Machu Picchu while having fun! Biking, rafting, zip-lining, everything is organised so you can't get bored during those 3 days. The end of the third and fourth day are dedicated to the Machu Picchu climbing. All the places where you stay are hostels or guest houses for your comfort.
On the first day, you will leave Cusco early morning and arrive in Santa Maria where you will mountain bike on 55 km with an option rafting regarding the season. The 55 km are downhill, around 3 hours. Yes, you can do it!
Next day, you will go for a little trek, twenty kilometres between Santa Maria and Santa Theresa. A day in high altitude but easy for people who are not highly experimented hikers.
Finally third day, a little walk on 15 kilometres exactly between Santa Marta and Aguas Calientes (including the walk along the tracks of course!). You will be in shape thanks to the day before so it should be okay. But if you are a little bit lazy, no problem, you can zip line 50 metres above the ground to skip this walk. Hang on well, and if you're afraid of heights like me, close your eyes when you slide but open it in the middle of the line. You will see it is beautiful.
Finally arrived Aguas Calientes, you will climb Machu Picchu the next day.
– 5 days – the Salkantay trek – for the motivated!
After talking with many travellers, this is the option that we have chosen. It is a trek over 5 days (including 1 day dedicated to Machu Picchu). More than 90 kilometres in 4 days with a maximum height: 4600 metres. Back on my experience of the Salkantay trek.
Awake at 4 am, we drove 2 hours by van before taking a good hearty breakfast not far from Soraypampa. This city is located 2,800 meters above sea level. Sometimes breakfast is not included at the departure but the rest is. Try to negotiate this and the water. Vital for this trek. Eat well, it is necessary to have enough energy because you start walking in altitude from 3 200/3 300 metres of altitude. Twenty kilometres later you will be already at 3800 meters in Soyrococha.
After these 4 hours of walking, you will be already very hungry and tired, the altitude takes you a lot of energy… a good lunch made by the porters and cooks will be waiting for you. If you are not that tired, no problem: you can go on a little walk for an hour or two to go see a great lake, Humantay. You can enjoy a majestic view of mountains and the azure blue lake. After this little walk, we play cards, a good way to bond with your fellow hikers for the next 5 days. Good vibes!
6-7pm time to go to your bed, I mean your sleeping bag, no shower really in these shelters. The minimum: a water point and WC. So bring basics goods such as toilet paper, wipes (be careful not to throw them, of course)…
The second day is the hardest because you are going to climb at until a pass at more than 4600 meters, 4623 meters to be exact. Even if you are climbing 700 metres, the ascent is pretty rough. Go slow but steady, your reward will be to see the sign 4623 metres. When you climb up you will have to climb down, it is the rule.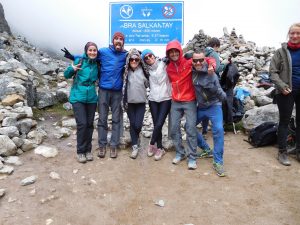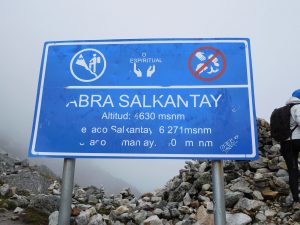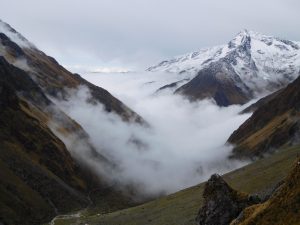 Take care of your knees because downhill is on a rocky road. Before the camp site, you will make a little stop, well deserved, for lunch, after 4/5 hours of walking it's necessary. Meals are hearty and warm. They offer you coca leaves tea. A very good cure for mountain sickness and headache.
Then you will go for two more hours downhill and arrive at the campsite in Chaullay. You could ask for a hot shower for only 5 Soles (around 2 euros). I literally jumped on it! It's nice to feel a little clean. Otherwise, you can be tough and take a shower in the river. It's up to you!
Now relaxing time, card games again and well-deserved beers to celebrate this day. Soon people went to bed after 10 hours walking… Not surprising!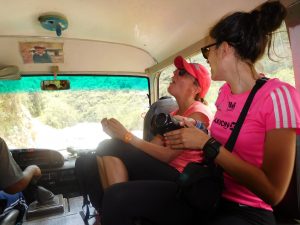 On the third day, easier than the last ones, only a dozen of kilometres most of it downhill. We said goodbye to our porters. The sun showed up, just the right moment to take pictures and enjoy the colours, the valleys and the lush forest. After a good lunch and coffee tasting, we took a bus to join the camp. Little reward after this day, natural thermal baths. 3 swimming pools were built around to welcome customers more locals than tourists. Two showers in two days! Amazing! Better than a 5 Stars Hotel!
Only one day before Machu Picchu, everyone is quite excited. After these 3 days, people start to know each other and as an event organiser, I offer to organise a local competition. We have some French, Dutch, Polish, Swedish, many Europeans. The aim is simple: each country defends its honour by drinking the local brew: Inca Tequila. Don't ask me what's in it, no idea but I know it's hard alcohol. Counting the points as well as I can (two Inca tequilas tricked a little my vision) and trying to defend our dear country, we do not succeed to beat the Dutch who are real competitors.
The 4th day, it was very hard to get up and open my eyes after the last evening. We could rest for a few more hours in the van and on the zip line (that we have decided to do before starting this trek) before arriving at the tracks in Hidroeletrica. After lunch, you start the least fun part of the trek. It's pretty tiring to walk along the tracks up to Aguas Calientes for 3 hours. I was glad we were surrounded by mountains, a good distraction.
After having slept in a tent for several days, you can sleep on a mattress and use hot shower…. (one condition the mixer is mounted in the right direction)
Again a little bit of time to chill before the Machu Picchu. The one I explained above. be careful, bring with you good a poncho because if it rains, you are gonna be sodden, really soaked.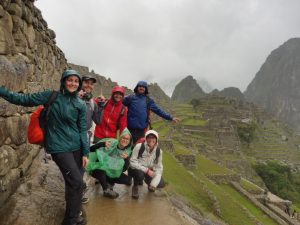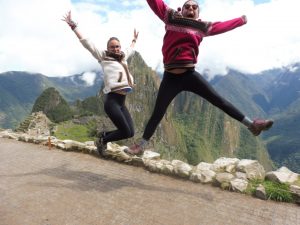 If you too you want to climb Machu Picchu, go for it without hesitating and whatever the path you choose it is an unforgettable experience. And if you did what did you think? Unforgettable or not?