August Runneuze – Parul – The Running Soul from India
August 1st, 2017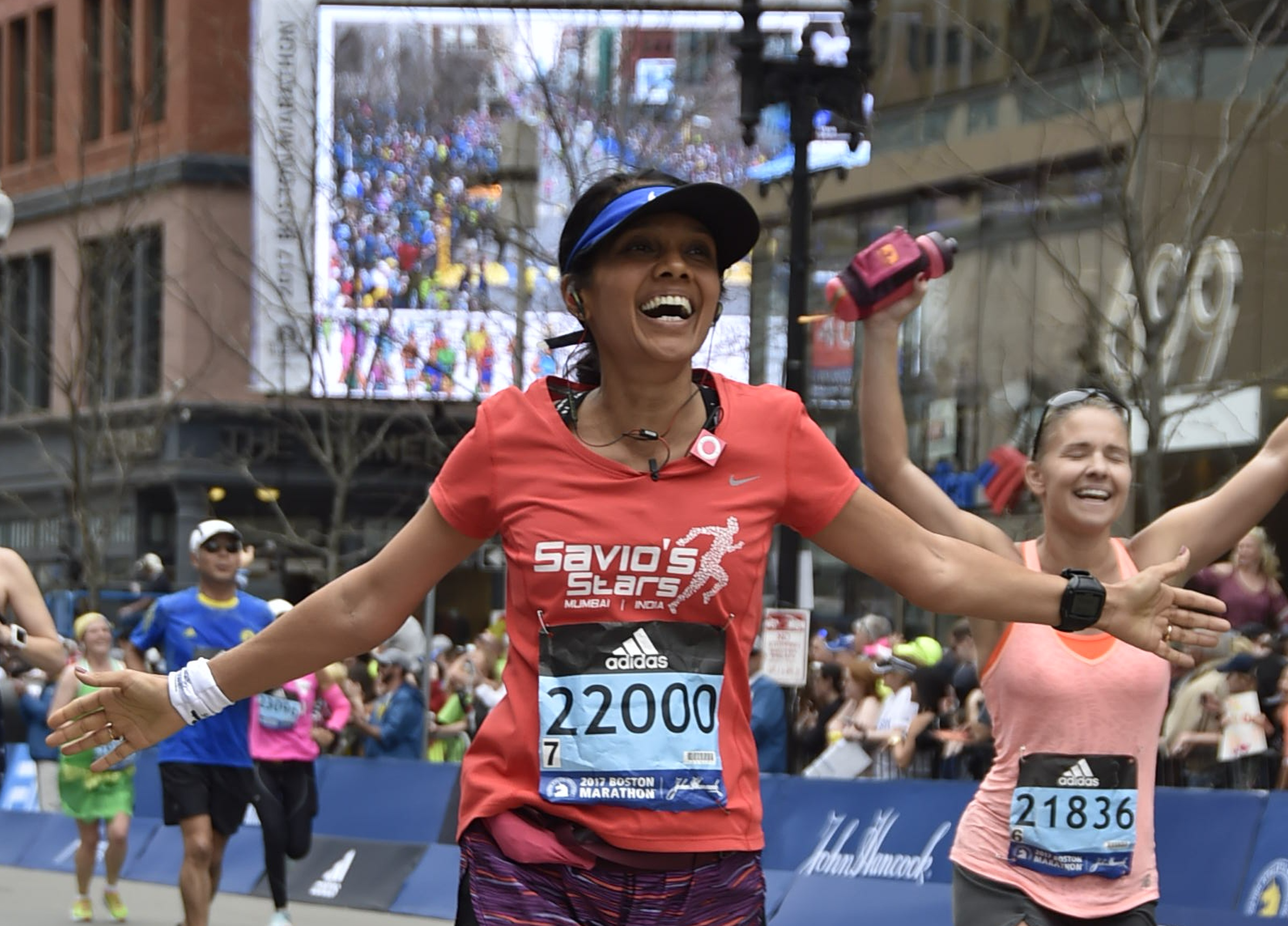 WWR: Who are you? Tell me more about you.
Hi, My name is Parul Sheth. I a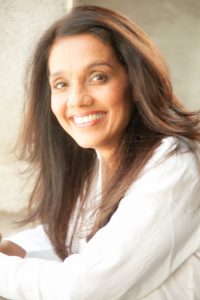 m a full-time mother, full-time runner, full-time architect, blogger and also….a published author. Over the last 13 years, I have brought up 2 teenagers as a single parent.
I have run 6 marathons, 18 half marathons and several other races. And much to my delight, I have qualified to run the Boston Marathon in 2017!
When I started I was a casual runner, I would train for a couple of months and run the Mumbai half marathon. In 2009, I joined Savio D'souza's( my coach) group and that's when my running became serious. The friends that I made, become my family.
There is great camaraderie in running a marathon because amidst song, conversation and share the pain, we have forged many a new bond. There is a reason we love to run, there is a reason, timeless and true, why we seek each other, why we work so hard, why we search for the best path, why we challenge and inspire each other, why we seek hills and practice acts of endurance. We are training and it matters more than we understand. We have mutual respect and admiration for one another. We understand the level of pain that we must endure. We don't question each other about why we continue to test ourselves in this way. We simply accept that we each have our reasons. Running has helped us find ourselves in some way, has helped us understand ourselves better.
Learning from them, I pushed my limits with time and distance and discovered a new way to live. Emulating them, I wanted to move out of my comfort zone. As I fell into the routine I imbibed a lot.
We run 5 days a week, with 3 hard workouts and 2 easy/recovery runs. Each run is logged and has a particular purpose. The training is very race specific.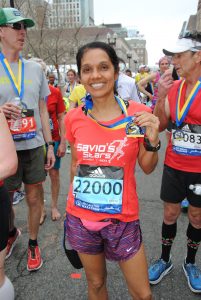 WWR: Could you tell me when did you begin to run? Why ?
I had always been particular of my fitness, since my childhood, but no running at all until the first Mumbai Marathon was held in January 2004.
I have always been particular of my fitness, but no, no running at all! In my school days, I played basketball and through college I did aerobics. After that, I spent a few years at the gym until the first Mumbai Marathon was held in 2004.
I started running around January 2004. That was a difficult time for me as my husband passed away in the previous September of 2003. So I guess I was looking for an outlet, and there came the answer. I started running to cope with my loss. Running for me started as therapy. The repetitive pounding on the road helped me clear my head. With time and running, I could deal with the pain and come to terms with reality. I feel I have grown tremendously as a person and a runner. Over the last 10 years, I have not only learnt how to stand on my own 2 feet but how to run and fly. Who needs wings when you have feet?
I was looking for some fitness in 2004, as I was dealing with a personal loss, and there came the answer. It seemed like an easy and convenient solution. I didn't need to go anywhere! I would just put on my old tracks, slip into my sports shoes and step out. All I had to do on any given morning was to look left and right and decide which way my heart would take me. How much I ran depended on my schedule, which in turn depended on when my kids had to leave and what their plan was. This is how it began for me. Of course, now it is a completely different story!
WWR: Are you practising other sports? What are they?
I swim a little for cross training and go to the gym for strengthening to support my running. Running itself takes up a lot of time, hence there is not much time left for any other sport. I do play the piano to relax.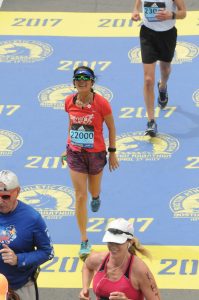 WWR: Could you tell me how running is taking part of your life?
Running gives me the space to think with clarity, it makes me grow as a person. Being a tropical country, early mornings work best for us to train. I am out for my run by 5.15 am or latest 5.30, depending on the distance, so that I am home before my daughter leaves for school at 7.15 am. All the domestic chores and work also begins after! So if there is a willingness, then all is possible. So it is possible to manage life with training, work, children and housework.
WWR: Do you think your life changed after you begin to run? If so, how?
Running was what put my life back in order after it was turned upside down. As I grow as a runner, I grow as a person. Running is how I rebuilt my shattered life, put it together piece by piece. 5 months after a life changing event I started running to mitigate the emotional pain. Running helped me heal again. I learnt how to translate the emotional pain into physical pain. The repetitive, mind-numbing thumping of my feet helped me ruminate and untangle the thoughts in my muddled head. As my running became stronger, I let go of the pain more easily. The journey has been hard but fulfilling.
WWR: For what reasons are you still running?
Running made me a writer- as the more I ran- the clearer my thoughts became- and the more I wrote- running lifts the fog from my brain. And usually, my writing draws parallels between life and running. When I started running- I started writing- In 2008, I started a blog called "Life's Little Lessons" about my observations of life and its eccentricities. Come 2009, I started training with Savio D'souza for the Full marathon. Simultaneously, a running blog "My Running Diary" was born. 4 years of blogging- on Blogger, Tumblr, WordPress, that has now evolved into my website called http://therunningsoul.com/ . These blogs have now become a book- " The Running Soul: My Journey from Darkness to Light"
WWR: Is it now your job? or is it still a hobby?
In real life I am a practising architect, I design restaurants BUT…. running is my life. It feeds my thinking, my writing and permeates my very being. My work is a means of sustenance, running is my passion, my reason to live! – I have always loved English and it was my dream to study English (of course life had other plans for me!) I am an avid reader- although I never thought I would ever become a writer! I used to write small snippets about life and my runs. But the year I started training for my first Full Marathon in 2011 I became a regular blogger and my blog therunningsoul.com was born. As the running grew, I got more and more inspired. My running fuelled my writing! As my posts became regular and I interacted with the readers, I realized that we all have the same fears. We all need to hear the same words for motivation to bring out the best in each one of us! So yes, it is my way of reaching out to new runners to dream big and to give strength to the experienced runners to go through the gruelling marathon training.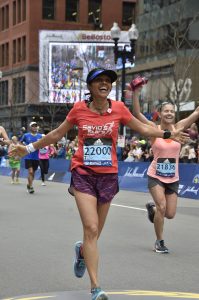 WWR: Tell me your best memory about running
All of us set preconceived limits for ourselves, which we need to challenge…and this is what happened at Mumbai marathon last year when I cut 24 minutes of my time.
During the race there were so many times that I wanted to give up- that ugly voice was talking to me…over my shoulder…in my ear- telling me to take the easy route and walk…until I remembered a quote by Murakami- I have not come here to walk- I have to run.
So I beat that ugly voice- with the good will and the good wishes of all you wonderful people- who had wished me –in person, by text messages-phone calls -emails…I told myself repeatedly that I should just keep going- one foot in front of the other- of course, it was more encouraging when I saw the number of runners I was overtaking…and sometimes when I saw a woman- I checked her bib- to see if she in my category or not.
All I wanted to do last year was to do my best- to cross the finish line completely exhausted. And there I got my wish. I gave it everything I had and I had to dig really deep.
It turned out to be the best race I had ever done. It really was not about pace. That was irrelevant. That race taught me- to look deep inside myself and see what the true measure of success really is. It is about – giving your absolute best to each and every day, to each and every race. That is I what I did – and fortunately, that brought me my personal best time, and I beat my two friends who I had trained with all year, and they were faster than me the previous year !!
That is when I learnt what it means to give something your best. In that training season, I learnt what it means to have a goal, work for it and to perform well to achieve it. That is the meaning of Success! This remains my best run till date.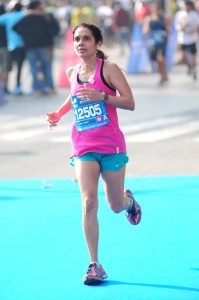 WWR: What you would like to share: your passion, about women with other women in the world?
Running is my passion and I love the way it makes me feel during the run as well as post run. The peace and calm that I feel while running and the sense of accomplishment I feel once I finish. It is a liberating experience to feel your feet pounding on the road at will and an empowering feeling to cross the finish line of a race. Of course, fitness is big by product of running- mental as well as physical.
Marathon running is a way that an ordinary person can rise to the occasion and accomplish something they never thought was possible. From a non-runner how we became Marathoners. The training teaches us about life as it draws parallels between life and running. Running rules apply to life and life rules apply to running.
Running has empowered me to become the woman that I am today. It has shaped my beliefs and made me an example to my children on how one can deal with adversity and emerge a winner.
I think small targets are stepping stones towards the larger ones. The end of something is merely a beginning of something else. New horizons await the person who starts walking!
Running has helped me to become the person I am today. It has taught me how to balance everyday things – work, family and yet make time for your passion, to make the most of what we have. We need to find our passion and follow it, to squeeze the juice out of life. All of us can't dream of becoming Olympic champions, but we can surely dream of completing a marathon. All dreams can become a reality if we have courage and perseverance.