6088 meters of hapiness, fear and tears…
April 4th, 2017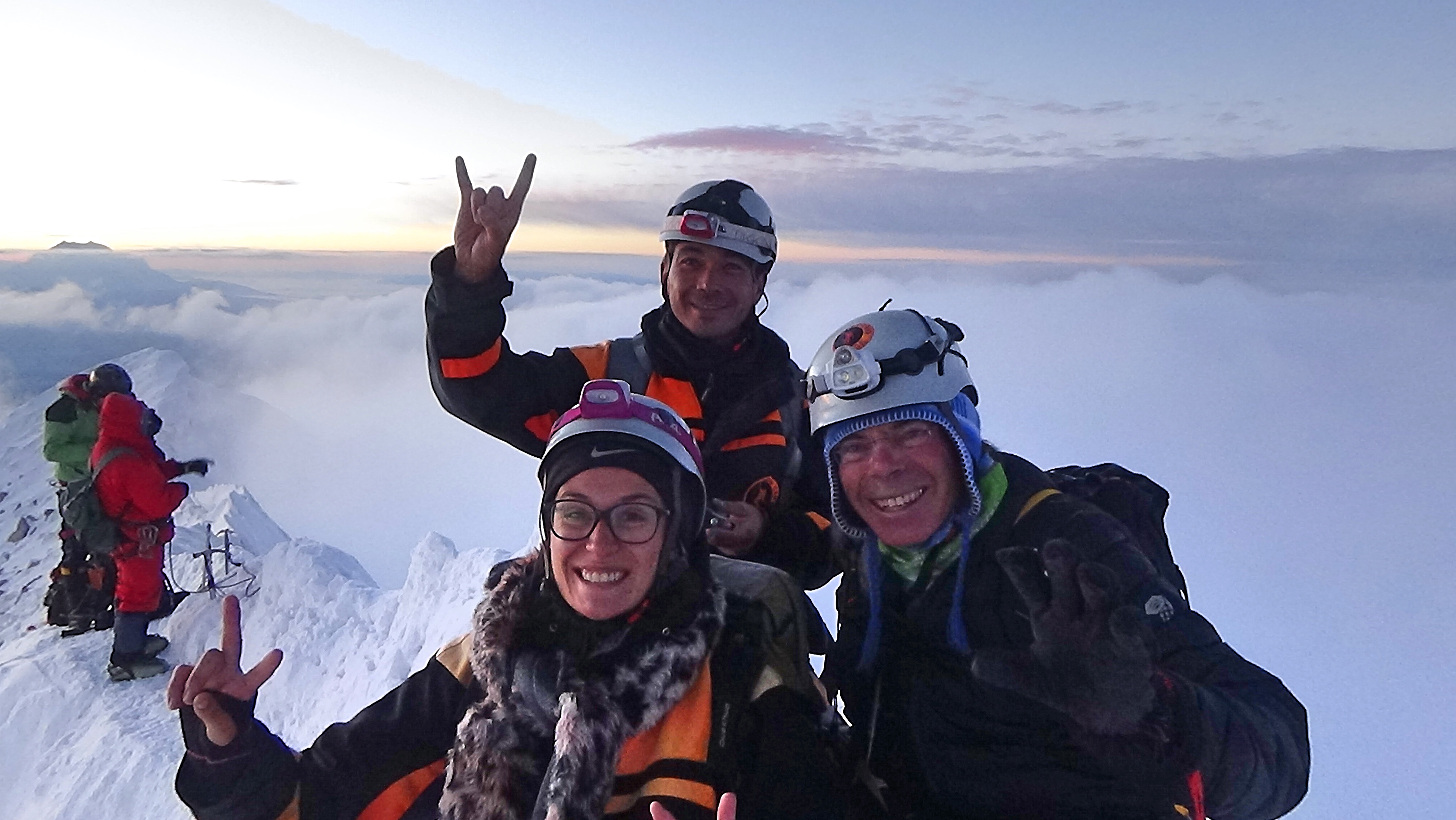 The highest climb I made was Mount Kenya with an elevation of 4985 metres but it wasn't enough for me, I had to climb higher… I was in Bolivia and had a few days before joining a friend in Peru. Just enough to climb Huayna Potosi mouton with a peak point at 6088 meters exactly not a metre less or more, in three days. Perfect! It was for me totally new challenge, climbing on the top of this mountain which is actually a glacier, knowing that I had vertigo. We say that we must face our fears, this is exactly what I was getting ready to do!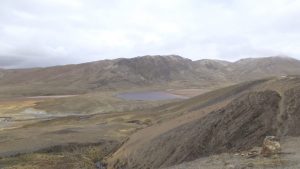 On the eve of departure, I tried all the necessary equipment for these three days: crampons, helmet, mountaineering shoes, gloves, coat… I was ready to face this mountain. We set up a meeting point the next day at the same agency to take the direction of the first camp.
I met Edwige and Sylvain, a French couple of newlyweds came to spend their honeymoon in Bolivia. I love how they decide to plan their honeymoon, and it certainly changes from the beach! We finished to pack our bags and take the road in mini-van. It was a good timing for me to get some sleep, the previous night hadn't been very long. We made a few stops to make our last purchases: batteries for the headlamps, pills against mountains sickness and a few snacks. We drove for two hours before arriving at the first camp. It was already noon, we had lunch with our guide Williams who knew a few words of French. Always funny when you're away from home! We met people who came back from the top of the mountain, we asked them about their first impression on the ice. They had done their training the day before. They looked fine!
After a substantial meal, we put our gear and went for our training at the bottom of the glacier. 45 minutes walk and here we are facing this huge wall of ice. The weather was not really good so we didn't get to see very far…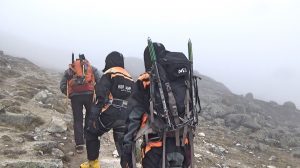 We learn the « French path » (el paso frances in Spanish) to walk on the ice. For those who do not know: it is a step to climb in mountaineering. We need to be parallel to the mountain, with the foot which is not directly on the wall, you're doing a crossover and bring back the one who is on the wall next to the foot that you moved in the first place but a little bit higher. It sounds complicated but it's pretty simple… then we also learned how to go down without being tense. It's not that easy, especially on a 45-degree incline wall. Finally the worst training for me: climbing on a 90 degrees wall… High of 20/30 meters. With my fear of heights, I wasn't feeling very safe. I am pretty sure that everybody heard me even down the valley! After all those mixed emotions, we went back to the shelter, a small snack and a little nap, it was already time for dinner.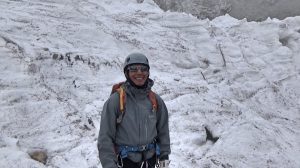 The second day, we left around noon but need to sleep and acclimate. We were 4900 meters above sea level and tomorrow night we would be at 5200 meters: « it will be hard to sleep » told us, Williams. At least we were warned. I had a really decent night of sleep. I was happy and ready to walk a few hours until the second shelter. We took our time to wake up and to take our breakfast. We talked and lot and played some cards. After lunch, really copious once again, we hiked for two hours with our 15 kilos of gear. 15 kilos to wear at the sea level no problem because I had carried my bag for almost two years. Imagine at 5000 meters of altitude, it's a whole different story… For every step, you need much more energy. In fact, I felt great when I arrived.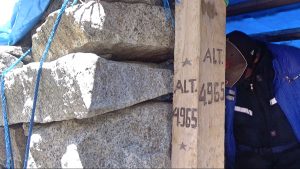 I was super happy and super excited knowing that tomorrow we will be at 6088 above sea level. Once again, we arrived and ate: this is the snack time. As we are in altitude, our body spends a lot more energy so we have to eat a lot to be sure to keep on climbing.
In our group, 4 others people joined us: Albert, a french experienced mountaineer of about fifty year, Nathalie, German a forty-year-old hiker, Emily, another german around thirty year who was supposed to do another trek and Pascal, a French traveller like me who has left everything to go and discover the world. As we were drinking tea and playing cards everyone shared about their travelling experience, we had a very good atmosphere in our team. Then, dinner because we must go to bed at 6 pm, we would get up at 11 pm to leave around midnight.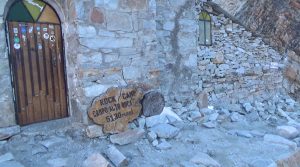 Rough night for everyone, I think I woke up three or four times to go to the bathroom… I really hesitated between staying in my sleepy bag and go out in the cold. 11 pm, I feel like I've slept only three hours. I was getting ready, little breakfast without being real hungry but I would need a lot of energy today: we have at least 8 hours of walking including six hours to reach the top. It is going to be tough! We started in the dark on the rocks before joining the beginning of the glacier it is only 1 am.
We rope ourselves to each other, we are 3: a new guide, Pascal and me. Let's go!
I felt great, we even spoke, the altitude didn't hurt me and I could still breathe properly. We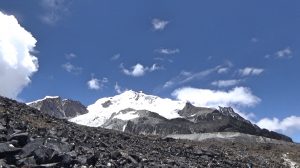 found our pace after one-hour climbing, we could only see in front and behind us small lights. We were like fireflies in the night, just one difference, we were around 5500 meters above sea level.
We faced technical climb, we had been warned, even I wished we could be more! A 90 degrees wall, not on 10 meters high but over 40… Having fear of heights I was shaking. Especially when I heard the guide: « Vamos, vamos hay gente, hay gente! « As he said in Spanish: there was a lot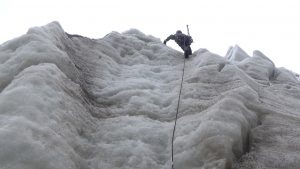 of people waiting so impossible to take a break. Tears ran down my face, I only had one option: pick up my ice axe and use it as the guide taught us the day before. « You can do it, you can do it! « I was thinking inside my head. And it worked! Don't worry, I could express my fear when I arrived at the top of the wall by raising my voice with the guide. « Yes I have fear of heights, the more you stress me out the less I'm moving forward… » It was clear like this. At the same time, it wasn't him who had made me the training for cramps he couldn't know. I calmed down and we kept on climbing.
The most annoying part arrived, the flat part, a step in front of the other still in the night,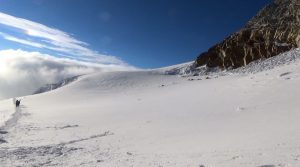 seeing only feet of the person in front of you. I almost fall asleep walking just as Pascal and Albert who joined us as we had the same pace.
Finally arrived at the bottom of the crest of Huayna Potosi. This part was the most difficult, at least we wouldn't fall asleep! We started to do mountain climbing and not hiking anymore. I was once again not feeling very safe at all! I wanted to go down again but I couldn't I'm with three other people, I had to continue and move on… I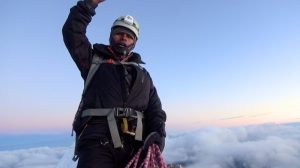 couldn't give up. I don't think about it, I'm trying to focus on my steps and finally reach the top. When I said at the top, imagine to be at 6088 m on a square metre of snow. Most of it, our tour guide told us a joke:
« I am going to fall, I am going to fall! » I wasn't laughing…at all.
I stopped and looked, I had the tears in my eyes, we made it las a team! And the ultimate gift, the sunrise just for us. Unfortunately, it was already time to go back. A soup was waiting for us at the shelter.
We must go down everything that we courageously climb, I was not really sure to be able to do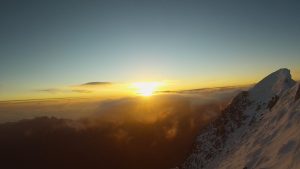 it… « don't look down, don't look down! » After few hours walking, we finally reach again the icy wall that I was afraid of. I froze, I couldn't move! My tears appeared again, I couldn't go down. Our wonderful guide understood the situation this time and help me to go down abseiling.
We walked through what our guide called « the beach ». I understand better now what that means. An icy area like a white sand beach.
One hour later at the shelter, we ate our soup quickly and went down to the starting point happy of what we accomplished. Even if not everybody could reach the top, we spent three great days, an experience I will never forget!