4 years after my first half-marathon…
March 6th, 2017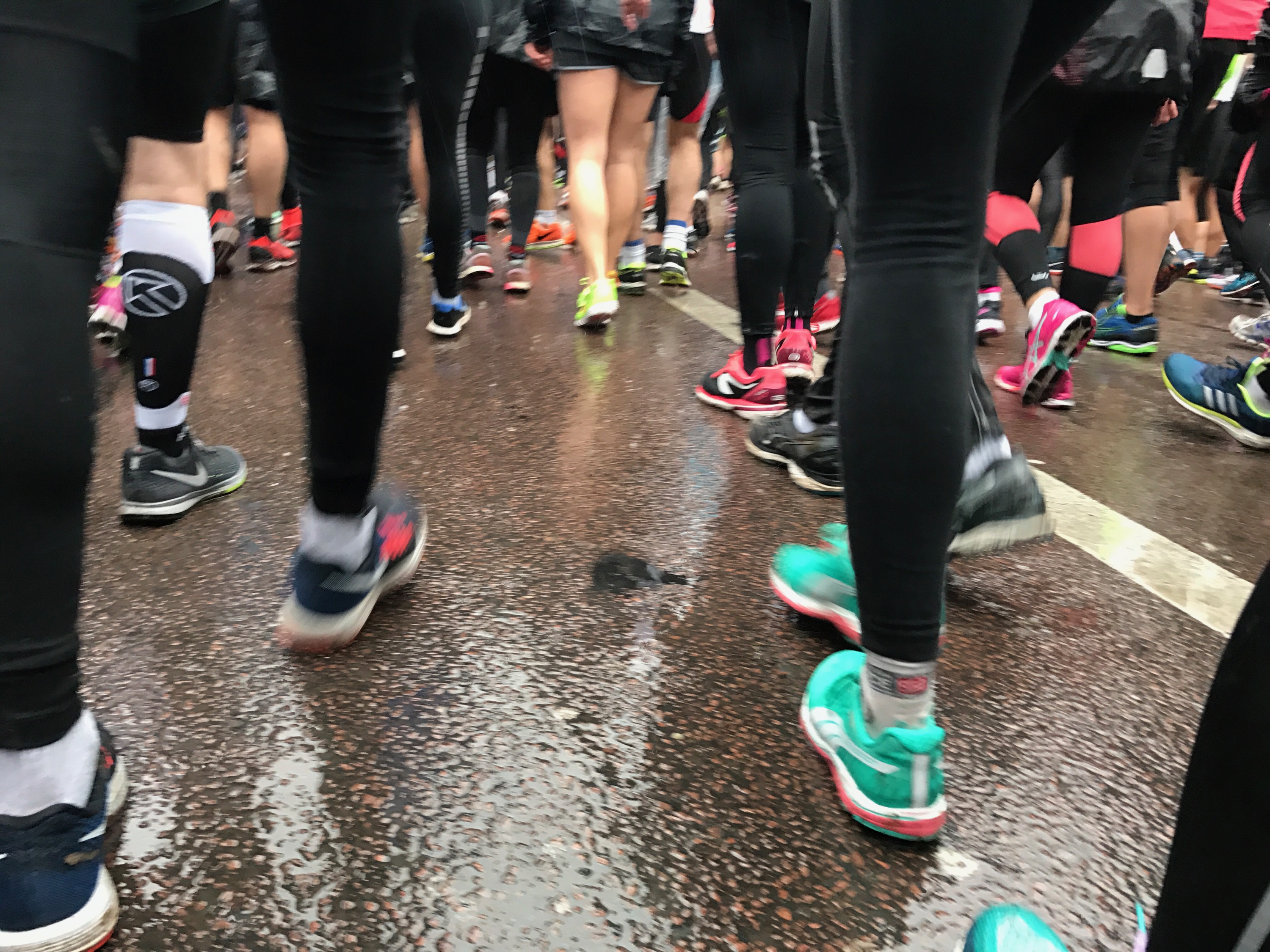 In two years I've being run at least one race per month, so it seemed obvious to run the semi-Paris marathon in March. And Then 4 years after I ran for the first time, I wanted to do it again with one of my friends, Estelle.
Mixed Feeling, I was glad to run again in Paris and at the same time, I realised that I was really back home… After moving for two years, staying a month in the same country and running in the same place I was running before my departure, it was such as a big challenge as running less than 1 hour 55 minutes.
We met with Estelle to pick up our race kit and do the usual photo the day before the race we were going to the run together, what a joy! In two years of travel, I ran twice with friends. I didn't realise but mentally it's been hard for me to motivate me to every competition I ran abroad alone, without family, without friends. This time I'll be supported all along the way! I was afraid of one thing: the rain that the weather forecast announced… the worst weather I could hope for. I had run under wet, cold and hot weathers but rain was the worst… Anyway, I had no choice.
Sunday I woke up early so I wouldn't be missing the start. I was not alone, my mum decided to come with me to Paris. I was also there early because I needed to pick up some clothes for a athletes camp in Tanzania.
A green tea (that I was gonna regret having taken after…) and a few minutes later, Estelle met me. Motivated more than ever we adjust our outfits for this challenge, which was waiting for us.
We are moving towards our starting point and try to make our way among the thousands of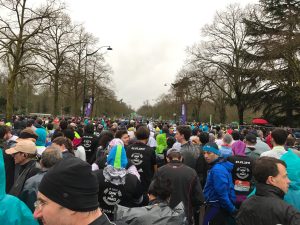 participants. It was 9:10 am and as expected it was starting to rain… We were shouting « you're not wet?! We're not wet » to give us more confidence on the 21,1km race we would run under this pouring rain.
We started to run, I felt good, I slept well, ate well and I was run with my friend. All is going to be okay! This year the route was new, it was as if I would run a new half-marathon. The first kilometres were the last one of the previous course.
Our pace was good 5'15/ km, I felt good even if it was raining and that my glasses were full of drops.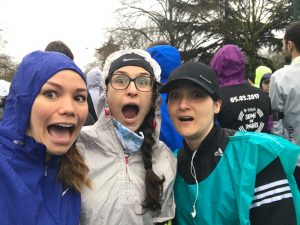 We passed the 5th at the exit of the « Bois de Vincennes » and spend the 9th next to Paris City Hall. Paris is a beautiful city it's true! Strangely, I like it better without the rain.
In the 10th kilometre « 53 minutes, it's good! We would end the half-marathon in 1hour 50 » told me, Estelle. Since the first mile, a little problem as I experimented 3 years ago, I really wanted to use the bathroom. I tried to hold as long as possible. 11th, 12th, 13th, and the ups and down hills on the « Seines' docks » increased my problem… Not a very glamorous technique, I literally peed on me a little every kilometre. « It is just water, it's raining and then I will change at the finish line… » I told to myself. Anyway, my decision was already taken a few minutes ago…
15th finally, we were entering in « Le Bois de Vincennes » in a few kilometres, at that moment, I'm iced, soaked, freezing cold, I didn't have any more energy if our pace is okay. Estelle tried to make me feel better saying: « we'll spend under 1 hour and 55 minutes! » It motivated me but my body gave me a sign that I couldn't go faster in the hills. The wind and the rain falling again and again on my body, my face isn't helping, but not at all.
Eventually, a small banana, that I swallowed with difficulty, helped me to continue. Then, I took off my glasses as it was impossible to wipe or dry it. I couldn't feel anything on my fingers, I couldn't see, I was just running, I was following Estelle who pushed me to the end! She sang, talked to people, made me thinking of something else. I was h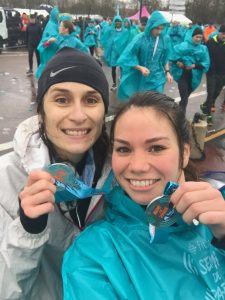 ere running and I didn't ask myself anymore more questions: 17th,18th,19th, 20th… Only one kilometre to go, a really long and hard last kilometre, I gave all the energy that I had. We crossed the finish line, my head was spinning, my lips were purple (made me notice Estelle), I couldn't feel anything. I thank Estelle for really pushing me on these last few kilometres and for running all along with me. We took pictures to remember this moment spent together! We ended in 1 hour and 57 minutes, one of the toughest half-marathon because of the rain and the cold. We traded our wet clothes against our new and warm ones on « L'esplanade du Château de Vincennes ». We have earned our brunch after this big challenge!